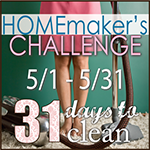 I know my biggest complaint at times is that I don't have enough time to sew and quilt because I am always behind on housework. I'm behind because we moved, we're remodeling, the baby needs lots of attention, we just got a puppy… oh so many reasons.
But this challenge – Having a Martha House the Mary Way – seriously appeals to me. Working on my heart and my head to figure out why I want a clean house – and while I'm figuring it out, getting the house clean step by step. The steps are short enough I think I can keep up for awhile. I'll be traveling mid month, and we have a family vacation after that, but, I can make progress until then.
I am starting a day early, so I will have a chance to blog, clean and keep up with the baby and the puppy (I probably should've started a week or two early!). I'm pretty excited to get started too. There's time for you to start too – just click the link above, buy the book and get ready.
The Day 1 challenge is to think about the Why portion of things. Why do you want a clean house? I want a haven, a place of peace and comfort for my husband and my family. I also want to be able to be more open to hospitality – without the need for a day of housecleaning first, it becomes a lot more possible. Finally, I want my daughter to grow up with a mostly good example of a place for everything and everything in it's place so she can learn to be tidy as she grows up.
So, will you join me on this journey?