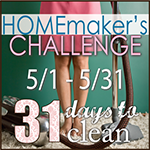 Day 2 of the challenge was easy for the Martha task – cleaning out the fridge and freezer. Our fridge was in need, so I went to work as soon as the baby went down for her nap. Wow, lots of random stuff in there! The freezer is still waiting – the husband is installing a new sink today, so he needed to get to work in the kitchen. The freezer needs organization more than cleaning anyway.
For the Mary portion of the day, the job was to figure out the ways you can bring life to your home, your husband, your child(ren) and your sphere of influence. This was a bit harder for me to wrap my head around… maybe because I was doing it while my husband was watching television in the same room? Anyway… I looked at it as a more than just this day question.
To bring life (and joy) to my home I am going to start an idea file. I'll start tearing pages out of magazines that have decorating ideas or organization ideas that i like. I can easily use the page scanner we have and scan them and save them in Evernote. That way I can add web stuff to the idea file too. That way, as we have time and money I can implement ideas instead of just grabbing something. I can also be on the lookout at thrift stores and on clearance racks for things that will work with the ideas.
To bring life and joy to my husband I'm going to add him to my daily routine. I'm sure that sounds a bit like the opposite of bringing life and joy to him, but, let me explain. I once read a book or a blog post, I honestly can't remember which, and it said a great way to bless your husband was to, each day, ask yourself what you could do to help him. Raising the children, cooking dinner and the like are not the help it is talking about. Something just for him. Maybe he is dreading mowing the lawn on the weekend but you know how to do it. Do it if you can. Maybe he really wants some time to work on a project but feels like he needs to do too many other things (I'm sure we know how that feels). Do something to help free up his time, or tell him everything else can wait. So, I am going to add that question to my daily routine. What can I do to help my husband today?
Incidentally, I've recently started using the Home Routines app on my iPhone to keep those daily tasks moving along. I love it! I read about it on Inspired to Action and it made so much sense, I downloaded the app immediately. So, I will add my husband to my daily routine. Will you?
Breathing life into my child… well, as a six-month old she's rather time consuming. But, I know sometimes I am just so worn out or so focused on trying to get stuff done that I'm not really in the moment with her. And that is just not right. She will only be a sweet baby once, right? So I want to make sure I have at least two focused, in the moment, all about her playtimes each day, and one reading time.
As for breathing life into my sphere of influence, I think the best thing i can do is to keep up on the 31 days to clean journey so in June I can try out my Taco Tuesday idea. Basically, open house on Tuesday nights. Dinner, fellowship, playtime for kids, just a casual, welcoming fun place to hang out every week or whenever you can. I was drawn to the idea after how much fun we've had doing baby itsy bitsy yoga on Tuesday evenings. Most of the Mamas have expressed interest in keeping up the getting together somehow, and I thought it would be fun to include Dads too.
I'm feeling inspired. And looking forward to Day 3! Amazing considering it involves cleaning my house!