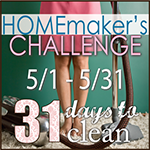 Day 3 of the challenge focuses on ways to give life to your home. Things like creating a beautiful, pleasing space,planning enjoyable activities for your family, having less clutter to create a better environment and taking time to get away once in awhile too.
For the Mary portion of the challenge I asked my husband what I do for our home that makes him feel most loved. He was not very helpful since he couldn't come up with anything! He said he appreciates all that I do, but usually feels like things like laundry and dishes are his responsibility too. I will confess – our current home is not beautifully decorated or well organized. I hope I can accomplish that soon. We are in the midst of remodeling the entire thing though, so decor is at the end of the list.
I skipped the Martha portion. I have no cabinet doors to clean and shine for the most part! They are in the garage being painted.