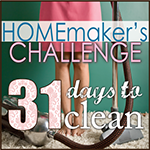 Priorities, priorities… what are those? I think they all flew out the window the second my little girl was born. SHE became the priority. Absolutely understandable for the first few months I think. But, now that she's 6 months old I think it's certainly time to regroup and re-prioritize things. Thinking about those priorities is the Mary portion of the Day 5 challenge. Here are my top 5 –
1. God – obviously should be the top of the list, and it's the "right" answer. I want to work on making sure it's the real answer, and it shows in my day to day life. I am going to work on getting quiet time in every day (I'd love suggestions for a thoughtful, Mama-based study to work through) to start. I need to charge my iPod and download it to my phone so I have my praise and worship music available more easily too. I could certainly do some praying and praising while I'm nursing the little one.
2. Husband – poor man. Since the baby arrived he's almost been a third wheel of sorts. She is by far a Mama's girl and he's not into babies enough to try and change that. I need to remember that I am a WIFE, not just a Mama. I will continue to ask what I can do to help him or bless him each day (today I picked up all the sticks in the back yard so it will be easier for him to mow whenever he's ready), get back to reading "The Power of a Praying Wife" and make sure to spend some specific time on him during my quiet time. I will also work extra hard to make sure there's an extra long kiss, a backrub, a tight hug or some other physical closeness for him each day since I know he craves that from me. There are some other ideas, but I'll keep them to myself. 😉
3. Baby Girl – She'll only be a baby once so I need to savor her sweet baby moments even if the house isn't clean. I need to work on cleaning, organizing, decluttering and getting a system in place before she gets bigger so the house will run smoothly and I can have abundant quality time to devote to teaching, playing and loving her.
4. Home – It's hard to tell we have a lovely home. I feel sometimes like I am at the bottom of a very deep hole. Our home has not had a thing done to it since it was built in 1967. We have wallpaper to scrape, trim to change, floors to redo and on and on. But, the kitchen is almost done. The master bedroom is getting close. The nursery just needs carpet. It's moving along. There's no reason I can't be organizing it as we go and gathering ideas for the decor. I LOVE to have people over and so does my husband. I want our home to be a comfortable, relaxed, enjoyable place to visit.
5. ME – I need creative time to sew, to write. I need time to read, time for quietness, time to plan meals and opportunities to just go out on my own once in awhile. If the house is in order and I've given to everyone else, I can truly enjoy those times. And, I think if the home is running smoothly my husband will be more relaxed too and more willing to help me find those me times. Right now, our home causes some stress because of all the projects, the stuff and the chaos. If I can remedy that, I will have more time for myself.


It's hard to get a good window photo, but this is my before. It was pretty grimy. It also doesn't have trim, was covered in sawdust and had junk on the windowsill. I fixed all that and cleaned up the counter next to the window too.

This is the area all cleaned and straightened. We are getting measured for new countertops and backsplash soon so we can lose the ugly ripped wallpaper border – thank goodness!

I chose to work on the dining room window area also since it's basically open to the kitchen, and as you can see, rather cluttered (from when we had no cabinets to use).

I got the windows cleaned, cobwebs down from the ceiling and curtain rod and the buffet cleaned off and dusted. I did not choose to clean the drapes as they would require dry cleaning and we will not be keeping them forever. In fact, they may be replaced in June with something much cuter and lighter.

I also cleaned the other area in the kitchen just because I was there and it needed it. The only other thing the kitchen really needs is to clean the stovetop. I need to read the manual before I do that since it's a new one and I don't know if I need to use special cleaners or something.
How is your 31 Days to Clean journey going?